We're not just looking for another employee, but team members to grow the company together and at the same time, grow as individuals.
Talented and capable individuals out there with a gripping passion for esports, gaming and events to join us as a full-timer, part-timer or even interns,
we welcome you to join the Battle Arena Malaysia family!
If you're interested in joining us, check out the list below on what types of job openings we have to offer:
Vacancies Available:
---
Corporate Administrator (Full-Time)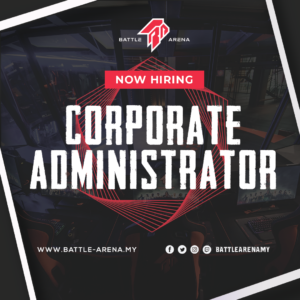 Requirements:
👩🏻👩🏻 Female
🔞🇲🇾 18 to 30 years old (Malaysian preferred)
🎓👨‍🎓 Fresh Graduate or Experienced
😎😎 Able to work under pressure
💥🔥 Passion in esports
📧📩 Good Communication Skill

Knowledgeable in Microsoft Words / Excel / PPT
💻💵 Simple Cashier
😀🤗 Friendly and Amiable
Attractive Staff Benefits:
💰💲 Attractive Salary Package
💰💵 EPF / SOCSO
🏥💉 Medical Benefits
🕵‍👩🏻‍🍳 Casual attire
🖥🎮 Free Gaming Account
🚗⛔ Parking Allowance
💰📈 Career enhancements , training and courses
***Fill up the Google Form and attach your CV or Resume Here ****
---
Arena Crew (Full-Time)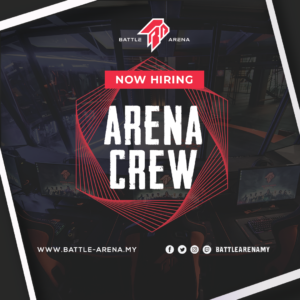 Wanna be part of our family for an exciting career in esports?
We work hard and play harder! 🤩🤩
Contact us if you are:-
Requirements:
👦🏻👩🏻 Male / Female
🔞🇲🇾 18 to 30 years old (Malaysian preferred)
😀🤗 Born with a Smile
👄😀 Friendly Team Player
🔥🎮 Passionate in gaming and services
🎓👨‍🎓 Fresh Graduate or Experienced in Customer Service
⚒🕑 Able to Work shift hours
🖥🖱 Basic PC Knowledge
💻💵 Simple Cashier
Attractive Staff Benefits:
💰💲 Attractive Salary Package
💰💵 EPF / SOCSO
🏥💉 Medical Benefits
🕵‍👩🏻‍🍳 Uniform Provided
🖥🎮 Free Gaming Account
🚗⛔ Parking Allowance
💰📈 Career enhancements , training and courses
***Fill up the Google Form and attach your CV or Resume Here ****
---
Internship Students
Interested candidates for the above positions are welcomed to send your resume or CV to hr@battle-arena.my