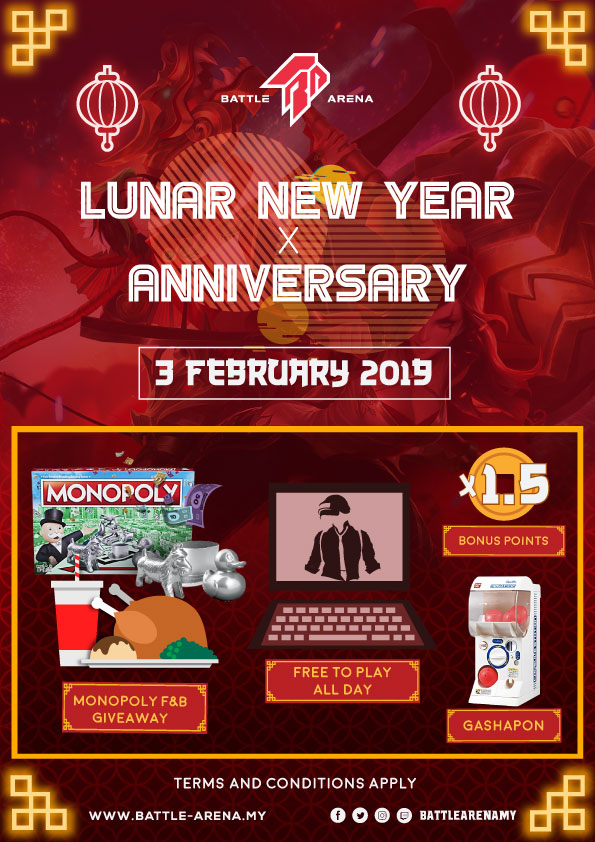 Lunar New Year x Anniversary 2019
Lunar New Year is coming up soon, we here at Battle Arena has already prepared some celebratory fun!
▪Free Gaming – To thank all you members for the support for the past year, all members can play for free on 3rd Feb 2019. So do come early to reserve your seats!
▪Monopoly Mania – Our F&B Cafe will be officially open that day! Win all kinds of free food and beverages prepared by our very own chef here at Battle Arena Café through a fun game of Monopoly.There'll be loads of delicious food to be won!
▪150% Bonus Points – If you reload any RM30 on the February 3rd, you will be getting an extra bonus 50% gaming credits! Do not miss this special value top-up!
▪New Year Gashapon – with a minimum top up of RM50, you'll stand a chance to win attractive prizes from our Gashapon machine.
We'll see you @ Battle Arena on February 3rd, 2019!
Cya!
——
这个新年和Battle Arena周年庆,我们已经准备了各式活动等待您的参与!
1.BA周年庆x全馆开放
为了感谢会员们在过去一年对Battle Arena的鼎力支持,2月3日当天将会全场免费开放电脑给会员畅玩!
2.新春x周年庆大富翁
为了回馈您们以及Battle Arena 的一周年庆,我们将在2月3日进行大富翁游戏,每位会员都有机会参与,并且能够获得各种BA Club送出的美食!
3.150%"经验值"提升活动
只要在2月3日当天充值,每充值RM30都可以获得额外百分之50的加成,让您在BA充值更超值!
4.新春转蛋运动
目前已经进行两周的转蛋活动,还有各类奖品等着你来赢取,只需要充值RM50便可拥有一次机会!
奖品包括
• 现金奖励总值 RM 1,200
• 免费Steam 游戏
• Steam 钱包卡
• 免费打机时间
• 神秘礼物🎁
2月3日与您约定,
不见不散!!!