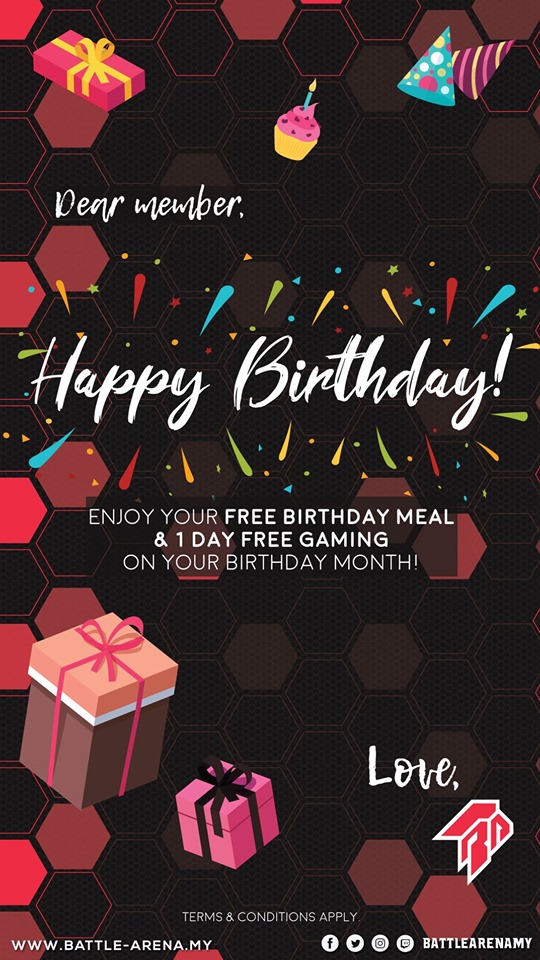 Birthday Gift
Why should you be a member of Battle Arena ? We treasure you as our Club Member and we would like to honor the day that you were born! No other Cyber Cafe's are giving these Benefits for their Members, we are the FIRST in Malaysia in history to provide this FREE meal for our club members.
Enjoy FREE Birthday Meal & 1 FULL DAY FREE Gaming
Terms & Conditions
1. Eligibility :
a. He or she must be an existing member of Battle Arena.
b. Only applicable to members who have been active in the past 6 months.
c. Inactive members (more than 6 months) are required to top-up RM30 in order to redeem birthday meal.
2. Members must PRESENT their NRIC/PASSPORT/Relevant DOC as proof of their
birth date.
3. We have the right to refuse service if members are not able to provide proper
documentation that states his or her birth date.
4. Members can redeem their meals one (1) week before, during or one (1) week
after their birth date.
5. Free gaming is not transferable and only redeemable/valid on the day of claim.
6. Members can redeem their meals within time period of 12:00PM – 9:00PM.
7. Members are entitled to redeem one (1) meal and one (1) beverage (refer to list)
on their birthday month.
8. Meal redemption are for dine-in only.