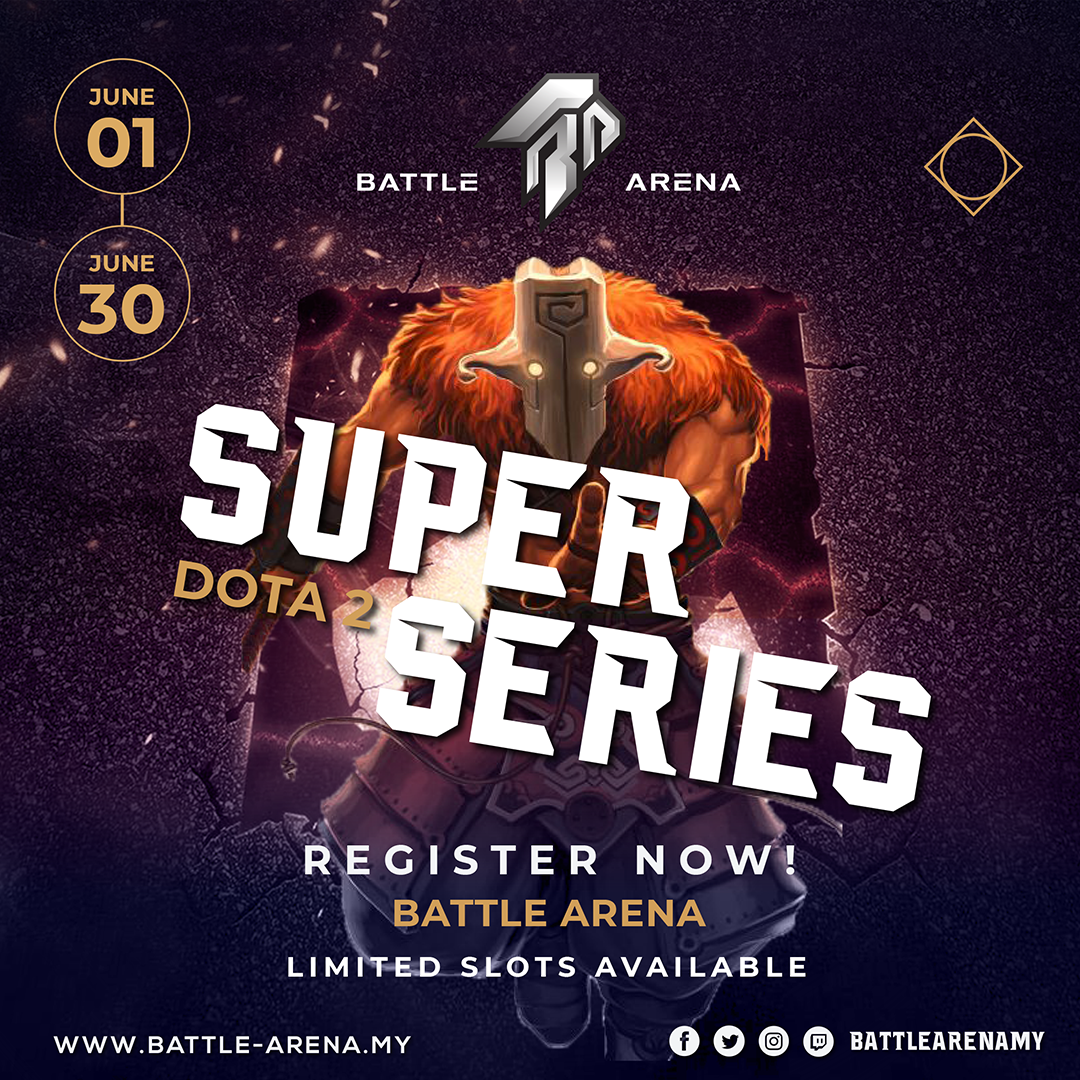 BATTLE ARENA: SUPER SERIES
BATTLE ARENA: SUPER SERIES – A DOTA2 REALITY SHOW LEAGUE SERIES
Battle Arena Malaysia will be organizing the inaugural "Battle Arena: Super Series" (abbreviated as 'BA: SS'), a homegrown DOTA 2 league specially designed for the community. Recognizing that there are few avenues for more casual gamers to showcase their talents, the BA: SS aims to offer the experience of competing on a professional platform to the everyday DOTA 2 enthusiast.
The league will host up to 32-teams from around the country

First ever tournament to be fully-produced into

reality-show

style series

To give local casual/semi-professional players a chance to experience a professional tournament setting & VIP treatment
Over the past few years, esports content has grown to be much more than just a platform to impress with gameplay – content creators with charisma or a great sense of humor have proved to be just as or even more popular than professional gamers at times.
The first season of Battle Arena: Super Series (BA: SS) will thus provide a local platform to nurture undiscovered homegrown talents, not just gameplay-wise but also highlighting their individual personalities via documentary-style online video content, including exclusive interviews and moments captured. This will offer viewers the chance to understand the thought process of players competing in a DOTA 2 tournament.
Through this initiative, Battle Arena Malaysia hopes to grow the amateur esports scene and complete the missing piece of the puzzle here in the Malaysian DOTA 2 circuit. It is Battle Arena's ardent wish to contribute to the sustainability of the scene, and as such, the BA: SS will be a long-term and recurring league, something that is often lacking locally especially for semi-professional players.
Tournament Overview
Registration Fees: RM 10 each player
Date of Registration: 11th May – 29th May
Venue: Battle Arena Malaysia
Registration Benefits:
Customized Team Jerseys for each qualified team member for TOP 8 teams

Scrimming Sessions with Guest Veterans

Rm10 worth of BA credits for each team member

Teams entitled to 50% off with training sessions in Battle Arena during Super Series

Registered teams to receive RM5 F&B Vouchers in Battle Arena
Offline Qualifiers #1
Date: 1st & 2nd June
Format: Round Robin (Group) → Double Elimination
Teams: 16 Teams → 4 Groups → 4 teams per group → Double Elimination
Result: Top two in Grand Finals → Proceed → Playoff
Offline Qualifiers #2
Date: 8th & 9th June
Format: Round Robin → Double Elimination
Teams: 16 Teams → 4 Groups → 4 teams per group → Double elimination
Result: Top two in Grand Finals → Proceed → Playoff
Scrimming Sessions with Guest Veterans
Date: 21st & 22nd June
Format: 8 Team split into 2 sessions → Each Guest star coach 2 teams while scrimming
Result : Acquire digital contents & capture raw emotions (Episode 3)
Play-Offs
Date : 23rd June
Format : Double Eliminations (Best of 1 series)
Total 8 team → Top 4 advanced to Grand Finals
Grand Finale
Date : 29th & 30th June
Format : Double Elimination
Semi Finals : (Best of 3 series) & Grand Finale : (Best of 5 series)
Prize Money
Prize Pool Distribution (RM 5,900)
1st – RM 2500 + trophy + 5 plaques

2nd – RM 1000 + 5 plaques

3rd – RM 700 + 5 plaques

4th – RM 500

5th – RM 300

6th – RM 300

7th – RM 300

8th – RM 300
1.0 Tournament Specific Terms and Conditions
1.1 General
"Battle Arena" Is the "Organizer" of this tournament. The Organizer appoints the Tournament Admins and staffs.

Participants must be available for all tournament dates they are involved in, including potential post-tournament interviews.

The act of confirming for this tournament implies full acceptance of all terms, conditions, rules and regulations stated, in its entirety.

The Organizer reserves the right to modify the rules and format without notice, to protect the integrity and smooth flow of the tournament.
1.2. Eligibility/ Roster
Players participating in this tournament need to be 13 years old of age or above, holding a valid passport (with more than 6 months before expiration), and are residents or nationals of Malaysia. Players that are under the age of 18 will need to provide a consent form signed by their parent/guardian.

Teams must consist of a minimum of 5 team members. No stand-ins will be allowed.

Any roster changes must be communicated to the admin 4 days prior to the qualifier. Any request made after 4 days may be declined by the organiser.
2.0 Tournament Schedule & Rules
2.1 Registration
Teams must check in 60 minutes prior to their match time on event days for registration. The entire team must be present for ID verification to check in.
2.2. Tournament Schedule
All official tournament schedules will be posted in the official website and official communication channels.
2.3. Tournament Game modes
The Tournament will be played in "Captains Mode".
2.4. Tournament Format
Offline Qualifiers
All participating teams will be randomly seeded into 4 groups of 8. The team will play in round robin mode. Points will be tabulated, and the top teams of each group will enter the playoff stage.
3.0 Specific Game Rules
The software used is DOTA 2 (Steam version).

The Game Mode used is Captains Mode (CM), Tournament Version.

Games will be played on the SINGAPORE server.

The first team to destroy the opposing team's ancient (main building) wins or all players on a team intentionally disconnects.

Each person attending the tournament must have read and accepted the rules and regulations. Ignoring it cannot be a reason put forward in case of an issue or dispute.

Dota tv's delay must be set to a minimum of 5 minutes.
4.0 Penalties and Disqualifications
4.1.1 If any of the above rules, regulations, terms and/or conditions are broken/not met, tournament admins may apply penalties according to their judgment and discretion.
4.1.2 Penalties that can be applied are the following:
Warning

Time Draft Penalty

Default loss of round

Prize Money Deduction

Disqualification of a player/team from the entire tournament.
4.2 ANY submission of false information in which will lead to penalties or repercussions.
5.0 Legal
The Organizer reserves the right to use names/photographs/videography of participants as materials for the purposes of advertising, trade, and publicity without any prior notice to the participants. Participants will not be entitled to claim ownership or other forms of compensation on such uses. The participants hereby confirm that all his/her personal information stated in the contest form is true and complete. The participants hereby irrevocably consent and authorize Organizer to process any of his/her information and to release the same to any related existing or future business partners or strategic alliance and/or any other third party as Organizer may in its absolute discretion deem necessary or expedient for the purpose of marketing and promotion of products and services. The Participants hereby confirm that no further permission or consent from him/her is necessary or required in relation thereto and this shall constitute the consent required under the Personal Data Protection Act 2010 or any other contractual consent for such disclosures of information. The participants hereby confirm that all his/her personal data stated in the contest form is true and complete and that he/she has read these terms and the Privacy Policy. By clicking the electronic consent box or submitting any personal data, the participants irrevocably consent and agree to the processing of his/her personal data in accordance with these terms and the Privacy Policy. The participants authorize the Organizer to process any of his/her personal data and information and to disclose the same to any related existing or future business partners or strategic alliance and/or any other third party as the Organizer may in its absolute discretion deem necessary or expedient for the purpose of the Event or marketing and promotion of products and services. The Participants hereby confirm that no further permission or consent from him/her is necessary or required in relation thereto and this shall constitute the consent required under the Personal Data Protection Act 2010 or any other contractual consent for such disclosures of information. All disputes relating to this Challenge shall be subject to the exclusive jurisdiction of Courts at Malaysia.
6.0 Miscellaneous
6.1 The Organizer reserves the right, in its sole discretion, to disqualify any participant that is found or suspected of tampering with the Event or the game submission process, the operation of this Event. The Organizer reserves the right to disqualify any person who it reasonably suspects has violated or infringed any of these general terms and conditions and the Organizer reserves the right to pursue legal action against any individual it believes has undertaken fraudulent activities or other activities harmful to this online and offline event.
6.2 The Organizer will not be held liable for any injuries or death caused during the duration of the event.
7.0 Communications
All official announcements will be done via Email. All tournament coordination will be done via WhatsApp. Please provide a valid phone number with WhatsApp for communication with the team captain or team members upon registration. Please follow the instructions given. In the case that the admins are not able to contact the team before the "check-in" time. The team will be disqualified from the tournament.
8.0 Prize Money
All prize money transfers are handled via bank transfer. Prize money will be distributed to winners within 90 days after the conclusion of the Grand Finals. The prize money will only be transferred to the team captain. The team captain is responsible for ensuring that all members of the team will receive their respective percentage of the prize money.
9.0 Admin Rights
Admins may overrule all the rules based on the situation. Admin decisions are final.